A web installation by media installation artist Amy Raasch, "Kitty decides" is lighthearted entertainment with a serious mission:
to translate our obsession with the online feline into meaningful donations to help animals.
"

MANY CATS LOVE BEING PET...UNTIL THE MOMENT WHEN THEY DO NOT. THAT IS WHEN PLAY GETS SERIOUS. THE SONG AND VIDEO WERE INSPIRED BY THAT MOMENT."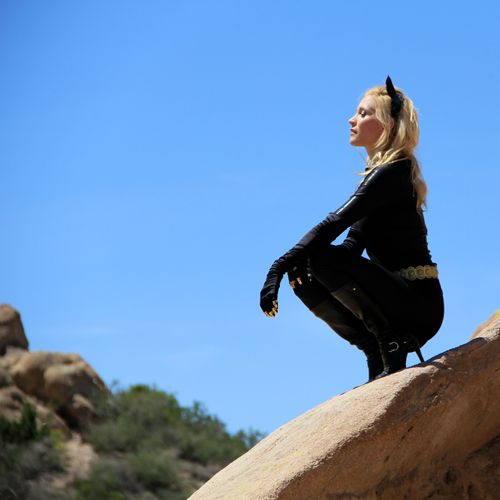 Some perceive cat's changing moods as precarious, but they are not so different from humans. Lovers change their minds, family members snap at each other, people step on each others' necks to advance their careers. Unlike animals, humans don't have an excuse when they act like animals.
---
Music was produced by songwriter 
David Poe
. 
Kelly Jones, whose 80s-reminiscent viral video for the Foo Fighters, 
White Limo
,
quickly garnered millions of views on YouTube, directs.
Each year, Americans spend over $56 billion on pet care and rack up billions more views of online cat videos every day. Most of the time, benefit to the animals they love to watch = $0. With proceeds benefitting animal rescue efforts, KITTY DECIDES aims to inspire cat video devotées to support rescue organizations in need, such as
Sante D'Or
,
Kitty Bungalow
,
Stray Cat Alliance
and
Kitten Rescue
. 
With a rock band of psychedelic kitty grrrls, a handful of curious rescue kittens and the artist alternating between a
Julie Newmar
-inspired catsuit and leopard print hoodie-footie pajamas, principal photography for KITTY DECIDES took place at
Vasquez Rocks
. The striking desert landscape just outside Los Angeles has provided a memorable backdrop for seminal film and television sci-fi, including legendary episodes of the original
Star Trek television show.
 Cameras rolled on Raasch as she danced fervently in a pleather catsuit in the 100-degree sun: 
"The right way that Kitty likes,"
she purrs into the lens. 
"The wrong way, when kitty BITES!"
Nearby, in a pink, air-conditioned 1956 Pleasurecraft trailer, a rescue cat named Tuna clicks on a remote control, watching videos on an orb-shaped vintage television. "We watch cats. Cats watch us," muses Raasch, adjusting the ears of her leopard-spotted onesie. "What do we learn from our virtual pets, and how can we translate that understanding into meaningful action to help them?"